Please Note I am now only repairing and restoring cane and danish cord.
This Arts and Crafts chair arrived at the workshop in a sad state of repair. Although originally intended to have an upholstered seat the owner was keen to try real rush.
And it works! The rotten webbing and rusty tacks are replaced with an 'envelope' of natural rush and a sad, neglected chair is transformed into a handsome and serviceable piece of furniture.
before – chair in need of repair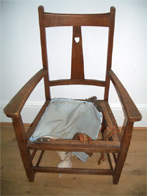 after – the finished chair beautifully restored!
Please Note I am no longer repairing rush chairs as shown in the example above
testimonials
"I was thrilled with the chair Kevin repaired for me."
"I felt I had to write to say a special thank-you... I would certainly recommend your service to anyone."
"When you need someone to cane a chair, Kevin Hubbard is your man."
"Kevin's work is of the highest quality."
before & after
An example of what Kevin can do for your negleted chairs...